Balancing Cost & Service: 7 Ways to Get More Value with Your Freight Spend

Every shipper understands the value of a well-run transportation network — it protects your customer relationships and can even be a competitive advantage.
However, even though service is critical, supply chain leaders face intense pressure to reduce shipping costs.
According to a nation-wide survey, keeping transportation costs down ranked as a top three challenge for small and mid-sized businesses.
How do you maintain reliable service while keeping your transportation budget in check?
Focus on logistics providers that offer high value for the cost. By going beyond the rate per shipment and looking at the full scope of the relationship, you can achieve long-term savings.
Here are 7 ways Coyote can help you get the best value for your freight spend.
1. Get the right carrier at the right cost.
With over 70,000 carriers moving over 10,000 shipments every day, Coyote has one of the largest, centralized carrier networks in North America.
What does network density mean for you?
With so much capacity in the Coyote marketplace, we're uniquely positioned to source the right carrier for each opportunity — no matter what you're shipping or where you're going.
Our size and scale gives you more options in fragmented market, getting the right carrier for your freight.
You also tap into the purchasing power of a leading 3PL. We develop lasting relationships with carriers based on mutual trust, allowing us to negotiate rates.
2. Manage your freight faster with free technology.
When running your transportation network, time is money.
Freight quoting and shipment management have to be fast, easy, and on your terms.
Our free digital freight platform, CoyoteGO®, gives you the power to instantly quote, book, build and track your shipments.

What You Get with CoyoteGO:

Unlimited instant freight quotes
On-demand load building & booking
Real-time tracking & visibility
Automated settlement
Digital credit application
Accessible in desktop or mobile
Related: Learn more about CoyoteGO

We'll connect with your TMS
If you already have a transportation management system (TMS), you don't have time to jump into every providers' platform for quotes and updates.
Coyote will connect to your TMS (via EDI or API) to provide you with hundreds (or even thousands) of instant truckload and LTL quotes, automated shipment building, real-time freight tracking and more.
3. Lean on expertise for long-term savings.
Though digital solutions create cost-cutting efficiencies, you need the guidance of freight experts to drive long-term savings.
Your dedicated logistics specialist can deliver high value for your freight spend, helping you to implement shipping best practices, determine the right solution for each shipment, and quote opportunities that meet your needs and budget.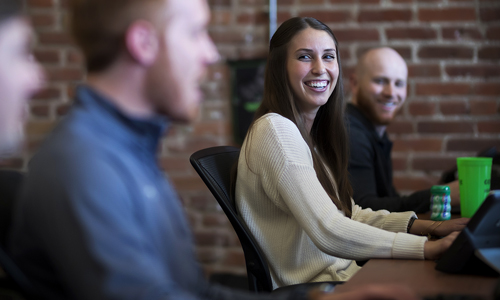 "Coyote's team was able to help us establish our baseline annual spend identify areas where we could optimize our network. They provided recommendations that were backed by real, projected savings."

– Corey Ritenour, Director of Transportation, Dairy Farmers of America

Take a comprehensive approach to cost management
If you need a more comprehensive strategy to controlling your spend, your own dedicated Coyote Transportation Management (CTM) team can:
4. Convert modes to cut shipping costs.
When you tap into our diverse solutions portfolio, you get more access to affordable capacity with the ability for modal conversions.
Your Coyote freight specialist can help you reduce your spend by identifying conversion opportunities in your network, whether you're moving long-haul truckload freight to the rail, consolidating LTL freight, or moving partial truckload.
We'll help you find the right mode for each shipment

Related: learn from freight experts as they discuss the differences between truckload, LTL and intermodal shipping.
5. Spend less time managing logistics providers.
Not only does choosing the right mode optimize your freight spend — by working with a multi-modal logistics provider, you simplify carrier management.
With Coyote, you tap into a massive network and a diverse solutions portfolio, which will streamline your procurement process, making your operations more efficient.
No matter what your supply chain needs, we can build a capacity solution for it.
Coyote's Multi-Modal Solutions Portfolio
Modes
Truckload, LTL, Intermodal
Equipment Types & Services
Dry Van, Refrigerated, Flatbed & Open Deck
Hazmat, Expedited Teams, Drop Trailer, Heavy Haul, Over Dimensional
Solutions
Managed Transportation (TMS), RFP Management, Dedicated Surge Capacity, Power Only, Trailer Leasing, Private Fleet Programs
6. Get consistent pricing to reduce rate volatility.
Do you have higher volume shipping lanes?
We'll set you up with competitive, fixed contract rates for your committed primary freight, brining predictability to your transportation budget.
We use our massive network to dedicate carriers to your consistent freight, mitigating costly service disruptions.

Predictable pricing solutions for your freight
7. Use market insights to set a better strategy.
Unplanned exposure to the spot market can be expensive, putting your transportation budget at risk.
If you have a better understanding of where the market is heading, you can set a carrier strategy to better protect your network from volatility — working with a logistics providers who understands the freight market can help.
At Coyote, we use 15 years of truckload market expertise to help your business navigate the ups and downs and reduce long-term freight spend.
Learn where the freight market is heading with Coyote insights

Proprietary forecasting model (Coyote Curve®)

Quarterly guides & Cheat sheets
Get more value for your freight spend with Coyote.
Stop choosing between cost and service.
When you tap into the Coyote network, your business leverages our size, scale, technology, solutions portfolio and expertise to manage your costs.
Your dedicated logistics specialist will help you identify ways to stay your within transportation budget, and help you take a long-term approach to managing your freight spend.
Rely on our 15 years of proven support to maximize the value for your money. Talk to one of our logistics specialists or request a quote to get started.