5 Ways to Maximize Your Freight Coverage & Secure Reliable Capacity
Every shipper knows the dreaded feeling: you have a critical shipment and your carrier fails to pick up, forcing you to choose between disappointing your customer or paying a premium for last-minute capacity.
To meet customer needs in today's marketplace, you need access to consistent, reliable capacity.
From your customer's perspective, you are only as reliable as your carriers — if they can't deliver, your business can't compete.
But for many businesses, securing capacity is easier said than done. According to our original research study, "sourcing consistent, reliable capacity" is a top three challenge for North American shippers.
That is not shocking; the truckload market is large and fragmented, which creates a lot of volatility. But you don't have to navigate it on your own.
Here are 5 ways you can get coverage and freight capacity you can count on with Coyote:
1. Expand your reach with +70,000 carriers.
With one of the largest, centralized freight marketplaces in North America, Coyote has the capacity you need, no matter when or where you need it.
From owner-operators and small fleets, to regional players and national fleets, we are fully equipped to help drive your freight — and your business — forward.
Whether you're looking to add reliable capacity to your routing guide, or a "one-stop-shop" for all your supply chain solutions, we are uniquely positioned to offer you the coverage you need across any lane or region.
Coyote by the Numbers:

+70,000 Carriers
10,000 Shipments Every Day
1 Centralized Marketplace
2. Connect instantly with a simple digital freight platform.
A large carrier network is only valuable if can easily connect with it.
At Coyote, we equip you with digital tools that seamlessly connect you with capacity and help you can efficiently manage your freight.
Our free digital freight platform, CoyoteGO®, gives you the ability to instantly quote, build and track shipments on-demand from your desktop or mobile device.

We also makes it just as easy for carriers to connect with our load board.
Why does that matter to you? It helps get the most real-time capacity in the marketplace, leading to more efficient digital matching on your freight.
You can instantly connect to capacity from thousands of carriers with your free CoyoteGO account.
What You Get with CoyoteGO

Unlimited instant freight quotes
On-demand load building & booking
Real-time tracking & visibility
Automated settlement
Have a TMS? We can also connect with your system via EDI or API.
3. Leverage dedicated freight specialists.
While having the right tech tools is important, your business needs more than a digital platform to gain the security of reliable coverage.
You need the expertise of a trustworthy provider who understands your business and the freight market.
"Coyote has been instrumental as one of our main transportation providers for over 10 years, running almost all outbound transportation for Heineken USA.

Our fully dedicated Coyote team supports the our network across the country."

-Marcello Serrano, Sr. Director Logistics, Heineken USA
For more than 15 years, our dedicated reps have helped thousands of shippers achieve consistent service and on-time deliveries with confidence — no matter the facility, lane or volume surge.
We're here for your business around the clock to help solve your supply chain problems, provide shipment updates and resolve issues.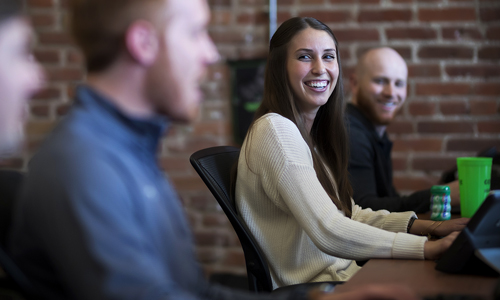 Our seasoned logistics specialists take the same approach in fostering carrier capacity.
We may use algorithms to match freight, but we develop real, long-term, strategic relationships with carriers, which translates to more reliable capacity for you.
4. Access every mode, solution & equipment type.
Tired of managing so many logistics providers to secure the capacity you need?
Your time is valuable — expand your coverage while simplifying vendor management by tapping into a multi-modal solutions portfolio.
No matter what type of capacity you need, you can find a capacity solution for your freight in our diverse network.

---
Coyote's Multi-Modal Solutions Portfolio
Modes
Truckload, LTL, Intermodal
Equipment Types & Services
Dry Van, Refrigerated, Flatbed & Open Deck
Hazmat, Expedited Teams, Drop Trailer, Heavy Haul, Over Dimensional
Solutions
Managed Transportation (TMS), RFP Management, Dedicated Surge Capacity, Power Only, Trailer Leasing, Private Fleet Programs
---

Our logistics specialists will help you connect you to the logistics solutions you need, whether it's a one-time LTL shipment, dedicated capacity for a special project, or a fully outsourced managed transportation solution.
Plus, as a UPS company, Coyote has unique access to over 75,000 UPS assets to help your network manage seasonal demand spikes.
5. Develop a smarter shipping strategy with data intelligence.
With over 15 years of truckload market expertise, we can help you navigate the ups and downs of the freight market and set a better supply chain strategy.
You can use the Coyote Curve®, our proprietary freight market forecasting model, to help you anticipate capacity crunches and freight rate trends.
Every quarter, we provide predictive truckload market insights, so you know exactly what to expect and can plan accordingly.
Becoming a Shipper of Choice with Coyote's Insights:
Maximize Your Reach With Coyote
Whether it's inbound raw materials or outbound finished goods, your business needs maximum freight coverage to compete in the modern world.
To access reliable capacity that won't let you down, trust a 3PL that has:
Centralized freight marketplace of 70,000 carriers
Easy-to-use digital freight platform
Dedicated logistics specialists
Multi-modal solutions
Proactive data insights
Ready to maximize your reach?
Talk to one of our dedicated specialists about your freight needs or request a quote to get started.