How to Ship Smarter: 5 Ways Using a Freight Expert Can Help

Every day, supply chains are getting more complex.
The pressures of "fast-and-free" delivery are impossible to avoid — whether or not you ship e-commerce freight.
According to a recent research study, keeping up with customer demands is the #1 business challenge facing today's small shippers.

To deliver at the speed of your customers' demands, you need help from logistics professionals who understand freight markets.
With 15 years of freight market experience and industry-leading insights, Coyote Logistics has the expertise you need in a trusted provider.
Here are 5 ways you can ship smarter with Coyote.
1. Access trained logistics specialists, even after hours.
Some digital-first companies may try to convince you that technology alone is the key to better shipping. Digital tools are important, but when you need support on an urgent shipment, an app isn't enough.
In addition to easily accessible freight technology, your business needs the support of easily accessible freight specialists.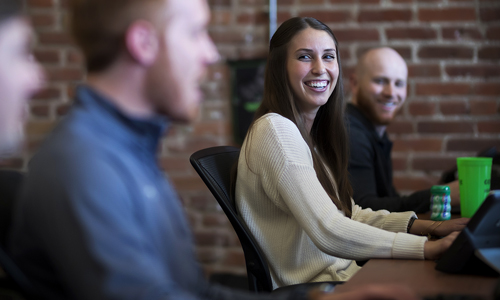 That's why we are committed to understanding your business to help you deliver on your promises every time — it's been our guiding philosophy for 15 years.
"If it wasn't for the Coyote operations team, I don't think we would have been able to get product to our customers like we did.

We probably would have lost customers without Coyote supporting us during tough times."

– Brandon Kirk, Director of Logistics, Pregis
Whether you need to resolve a simple issue on a single load, or want help putting together a larger supply chain strategy, our people are here for you.
As a Coyote customer, you get a dedicated rep who learns your business, as well as 24/7 support team.
Each of our over 3,000 freight specialists go through a rigorous training program and are prepared to help you with all your shipping needs, including:
2. Leverage the perfect blend of technology & human expertise.
Technology and expertise — your business needs both to keep up with market demands.
Shippers and carriers agree: research shows that the ideal balance of the two in supply chain operations is 60% of tasks handled by tech, and 40% managed by people.
You try to strike that balance in your business every day — so, don't settle when choosing a logistics provider. Coyote provides the perfect combination of easy-to-use technology and human expertise.
CoyoteGO
Our free digital freight platform, CoyoteGO®, makes it easy to seamlessly connect to capacity and manage your freight.
Unlimited instant North American freight quotes
On-demand load building & booking
Real-time tracking & visibility
Automated settlement

Connectivity
We meet you where you're at, connecting with your business in the way that works best for you.
Coyote Transportation Management (CTM)
If your business is scaling rapidly and you've outgrown your shipping operations, Coyote can help. Get TMS-enabled services, along with the support of logistics specialists, with CTM.
3. Ship smarter with proven market insights.
To build a supply chain capable of supporting your business in the digital age, you need to work with logistics providers who understand the freight market.
At Coyote, we use 15 years of truckload market expertise to help your business set a strategy that can navigate the ups and downs.
Get insights to help you out-ship your competition
Trust a recognized industry leader
Don't just take our word for it — dozens of shippers and publications have recognized our proven track record of trusted industry expertise.
Here are just a few of the awards we've been honored to receive:
4. Depend on real relationships with 70,000 carriers.
Our commitment to balancing technology and human expertise extends to our network carriers too — trucking companies want more than just an app from their 3PLs.
We use proprietary technology to consolidate a fragmented market and match freight in a centralized marketplace, and logistics specialists to develop lasting carrier relationships built on mutual trust.
What does a better carrier experience mean for your business? More — and more reliable — capacity.
Carrier management, made easy
When you rely on our expertise, you can spend less time managing your carrier network.
We build and maintain strong working relationships with carriers so you don't have to.
Relationships across fleet sizes, equipment types and regions
Regular KPI reporting to hold high service standards
Coyote's Carrier of Choice program incentivizes and rewards exceptional performance
Instant access to Carrier Scorecards
Carrier of the Year program for top network performers

Pictured: 2019 Coyote Carriers of the Year
"Honest customer service and providing visibility into shipment status is really important to us. Coyote gives us multiple platforms to achieve those goals."

- Bik Pannu, American Dream Logistics, 2019 Carrier of the Year Award Recipient
5. Optimize your supply chain with strategic solutions.
Sometimes you just need last-minute capacity for a spot shipment, but a trusted 3PL can bring so much more to your shipping operations.
At Coyote, our mission is to use our 15 years of expertise to deliver smarter supply chain solutions.
Your dedicated logistics specialist will make it easy to tap into our diverse portfolio of services, helping you drive your business forward.
All modes & equipment types
Whether you need dry van, refrigerated, flatbed, less than truckload (LTL), over-the-road, intermodal, drop-trailer or hazmat, we have you covered — literally.
Coyote, a UPS company
When volume surges or you need help managing special projects, you can leverage our flexible equipment solutions — including our unique access to over 75,000 UPS assets, a benefit we enjoy as a UPS company.
Outsourcing to industry experts
If you need more strategic, specialized services — like end-to-end network optimization, RFP management, or a fully outsourced supply chain solution — Coyote Transportation Management services can make your shipping smarter.
Count on 15 years of expertise & proven service
To keep pace with your customers' rising demands, you need a provider who offers consistent service on your freight while bringing expertise to your strategy.
Our trained logistics specialists are here for you, around-the-clock, to help you secure capacity, resolve issues and provide solutions.
Rely on 15 years of experience for support you can count on. Talk to one of our logistics specialists or request a quote to get started.