Another week into widespread sheltering-in-place, and we're starting to settle into a new normal.
If the past month has been any indicator, don't expect it to last too long. Here are 8 things to keep in mind over the next week as you continue to work through this pandemic.
8 things for supply chain professionals to know as of April 8, 2020:
Outlook for the near future: capacity up, volume down
It's Holy Week around the world
Temperature checks are becoming more common
LTL market trends: how carriers are responding
Consumers are still stocked with the essentials
Supply is catching up with demand (for most products)
Small business are feeling the impact
Produce season update
Let's dive a little deeper into each topic.
---
1. Outlook for the next couple weeks: capacity up, volume down
Over the past four weeks, we've experienced some of the most extreme market volatility ever observed — at least in Coyote's history. Now things are starting to settle in as many Americans start to settle down.
The amount of freight moving in the market is ultimately determined by how much consumers are buying, and right now, it is much less than usual.
Until some of the more restrictive sheltering-in-place measures start to peel back, volume — at an industry level — will be muted.
For the immediate future, there is plenty of capacity in the market relative to the amount of freight moving, which has helped even out some of the volatility, but things can change quickly.
2 things to keep in mind:
With less freight moving, there are less opportunities for carriers to find a reload to create a round trip. That means carriers could be more concerned about getting "stuck" after making a delivery. This may contribute to rate volatility in certain lanes as carriers look to hedge their bets.
As volume continues to taper off and COVID-19 concerns increase, it will likely push carrier capacity back out of the market, which would also contribute to volatility.
Long story short:
The market has stabilized for today, but whether you're on the supply or demand side, don't get too comfortable, because if the past month is any indicator, things can change fast.
2. This Week Is Holy Week
This week is Holy Week — a time that typically contributes capacity shortages across North America and Europe as supply chain professionals celebrate holidays like Passover, Good Friday and Easter.
That means many businesses will be working limited hours Thursday, Friday and Monday, especially in Catholic countries like Mexico, Spain and Poland.
If you have business moving internationally, or even domestically, anticipate tighter capacity from carriers and the potential for shipments to be moved to the following week.
All that said, most non-essential businesses have already been closed down in many countries around the globe, travel (for families) will be limited, and many religious services will not be held.
Accordingly, the major impact to overall shipping operations has already occurred, and any additional impact from Holy Week disruption will probably not be as noticeable .
To those celebrating the holidays, have a safe and healthy time as best you can!
3. Temperature checks are becoming commonplace
In an effort to keep front-line dock workers safe, many facilities are starting take drivers' temperatures when they arrive at security.
If the driver has a temperature over 100°F, they are asking further questions and taking relevant precautions.
We are already seeing this from several large, enterprise retailers — it is likely that more shippers will start taking up this practice as well.
We are communicating this to carriers when applicable, and have not experienced any push back. Safety is everyone's #1 priority right now.
Helpful Safety Resources
The Consumer Brands Association, in collaboration with the Food and Beverage Issue Alliance (FBIA) have developed the following resources, which you may find beneficial:
4. LTL market trends: how carriers are responding
Compared to the full truckload market, the LTL carrier market is more centralized, which creates more uniformity across operational changes and a shared experience with general market trends.
That said, each carrier is different, so check with your provider to get the most current information. Here are some of the top trends we're seeing right now:
Changing service profiles
Volumes are down, and as a result, carriers are focusing more on their core competencies. Auxiliary offerings (guaranteed service, white-glove deliveries, etc.) are temporarily limited.
These services are still available, but check with your provider for any changes.
Updated rate structures
Some carriers are offering updated pricing schedules that target freight moving into high-demand regions.
Social distancing
Just like the rest of the country, many carriers have implemented policy changes surrounding signatures, inside pickup & delivery, and residential services.
Undeliverable shipments
With all non-essential businesses closed, there is in an increased amount of undeliverable shipments, which are subject to storage, reconsignment, and redelivery charges.
Make sure to check with your provider to avoid any of these issues prior to shipping.
5. Consumers are still stocked with the essentials
Consumers are well-stocked at home:
42% have enough essential goods to last 2+ weeks
37% have enough for 1-2 weeks
Only 3% have 0-2 days of supplies
Full pantries = less trips to the store. This doesn't necessarily mean less demand at grocery stores, but the mad dash has leveled off — you can only buy a 5 lbs. bag of rice so often.
6. Supply is catching up with demand (for most goods)
With the initial rush settling down, grocery stores and other retailers have worked hard to catch up.
Though many Americans are still seeing shortages of certain products (toilet paper, hand sanitizer), they have also seen more items in stock lately — 56% of respondents reported seeing more availability of high-demand items.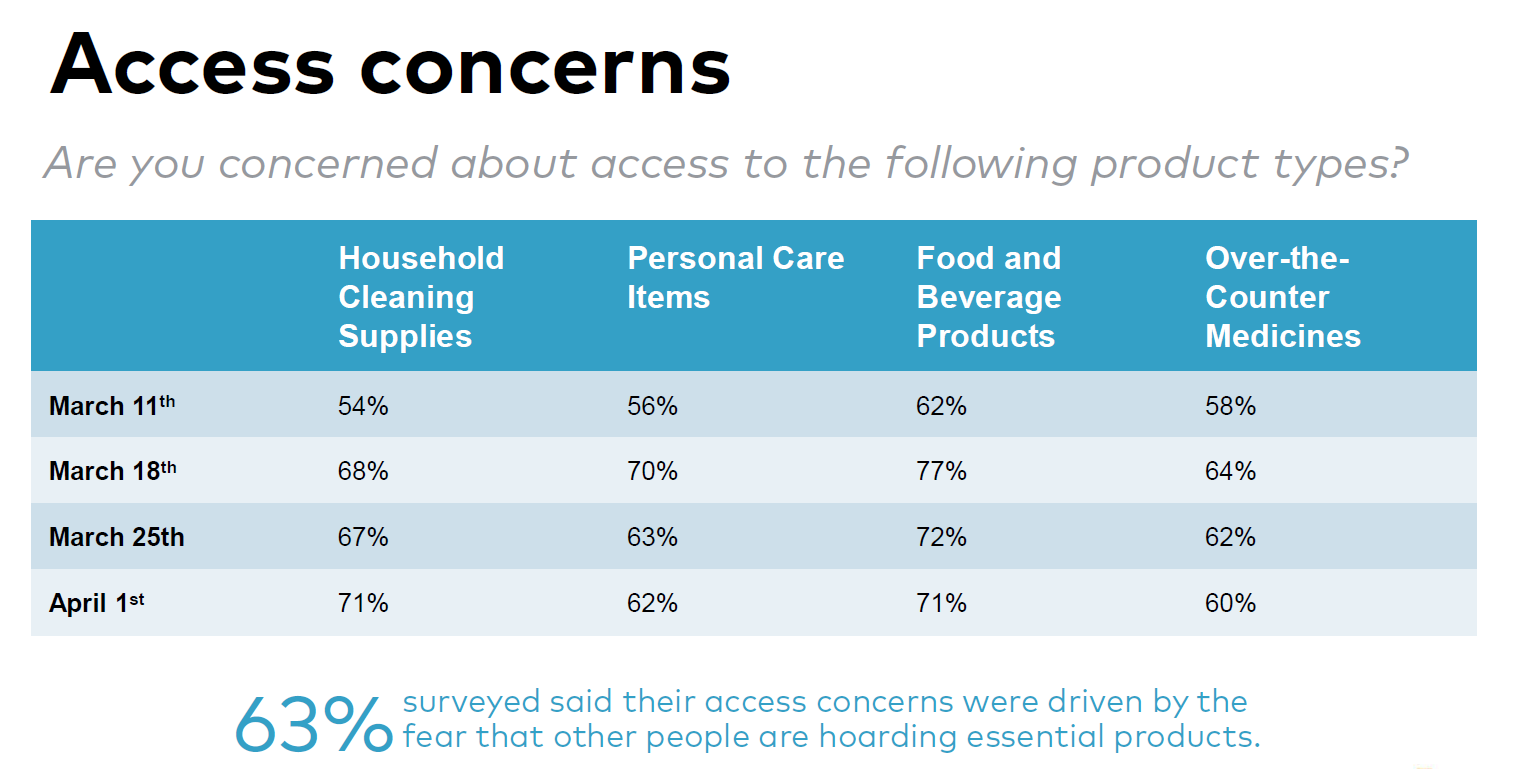 Shippers producing high-demand items are ramping up production, rewarding front-line manufacturing employees with raises, bonuses and enhanced benefits.
7. Small businesses are feeling the impact
UPS launched a weekly survey to gauge the "pulse" of small and medium-sized businesses across the country.
While no company will be immune from the effects of this pandemic, small businesses, who generally have less access to capital and are heavily reliant on cash flow, are starting to feel the impact.
The (sort of) Good:
6% said the pandemic was having a net positive impact to their business
7% expected sales to increase
12% expected flat revenue in Q1
The Bad:
77% reported either a negative or significantly negative impact
70% expect a revenue decline in Q1 2020
13% of respondents closed business operations
35% are reducing hours
The U.S. Government is taking action to try an buoy small businesses with a $2 trillion stimulus package.
Small businesses can apply today, and many of the loans are distributed on a first-come-first-served basis.
To learn more about what may be available to your business, we compiled an FAQ document that consolidates government resources.
8. Regional roundup: produce is still coming
Though it will likely be much less volatile than usual, produce season is still starting to heat up.
Capacity is available, but many food shippers are scrambling to reroute their supply chains, as the pandemic has upended their customer base.
Though grocery stores are booming, many bulk buyers, like restaurants, hotels, stadiums, college dorms, etc., are temporarily closed (or have reduced consumption). This is creating an increased need for flexibility.
Texas, particularly Laredo, and southern Florida have already started shipping produce.
What's shipping?
Tomatoes
Mixed vegetables
Berries
Melons
Cross-border Mexico produce:
Produce shipping is in full swing in Mexico, but the coronavirus has affected the maquiladoras and non-essential manufacturing.
We have seen factory closures across all of the major auto manufacturers, their suppliers, and various other shippers.
What we are left with is plenty of capacity in some regions (like the Bajío in central Mexico, known for automotive production) but tighter-than-usual capacity in a few states that are heavily exposed to produce (JA, TL, HG, MR).
If you have freight out of these regions, expect capacity to be relatively tighter.
Need Help with Anything?
We are here to support you. You can get an instant freight quote or talk to a Coyote specialist, 24/7.
Give a Thank You, Share a Thank You
In these trying times, a little gratitude goes a long way. Help us recognize the hard work and self-sacrifice of the men and women on the front line of the country's supply chain.
Jonathan Sisler, our CEO, wrote this Thank You letter. In it, he encourages you to submit your own Thank You through this form.
Whether you're a shipper or a carrier, whether it's for something big or small, we'd love to hear from you.